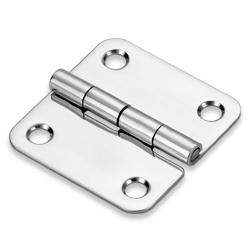 Stainless Steel Rounded Corner Hinge
PRE57781
---
In stock, ready to ship

Inventory on the way
This hinge is made of highly polished stamped 304 stainless steel for extra beauty and durability.  It has square sides with rounded corners for clean look.  It mounts with 4 - #8 countersunk fasteners (not included).  Used by many boat builders and cabinet makers, this is a great hinge whether you are adding a new one or replacing a cheaper one that has broken!



Need a different hinge?  Send the dimensions and a picture and I'll find it for you!
Dimensions:
A = Overall length - 2"
B = Overall width - 2"
C = Each side length from hinge pin center - 1"
D = Hinge leaf thickness - 1/16"
E = Overall height (depth) at knuckle - 5/16"