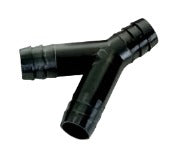 3-4" Hose Y fitting
THM Y-750
---
In stock, ready to ship

Inventory on the way
Y fitting with 3/4" hose barbs on all three sides.  Black high impact plastic, sized to fit marine hose (slightly smaller than industrial hose).

A fitting with three openings, a wye is used to create branch lines. It is a type of tee fitting which has the side inlet pipe entering at a 45° angle, or an angle other than 90 degrees.
A standard wye is a "Y" shaped fitting which allows one pipe to be joined to another at a 45 degree angle. Wyes are similar to tees except that the branch line is angled to reduce friction and turbulence that could hamper the flow.  In boat applications, a Y fitting can be advantageous because it can allow better drainage and may be easier to install due to space limitations.
Made in the USA !
Need a different fitting? We have  many other elbows, straights, and Tees!