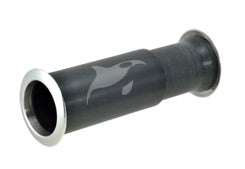 1-1-2" Push together splash well drain, long
MSC3506
---
In stock, ready to ship

Inventory on the way
This drain tube is perfect for getting water directly overboard from motor wells, splash wells, compartments, etc.  The nylon tubes just push together and can be cut to adjust for a wide range of hull thickness up to 3-7/8".  The 316 stainless steel trim rings provide a deluxe appearance and help protect the nylon from the elements.  This splash well drain tube fits in a 1-1/2" diameter hole and accepts a 1-5/16" drain plug (not included).  Narrow (1-3/16" stainless trim ring allows it to fit close to the bottom of the well for better drainage.  
If you have an old brass sleeve drain that has rotted away, this is a great replacement!

Dimensions:
A - 1-1/2"
B - 1-3/4"
C - 2-3/4" to 3-7/8"