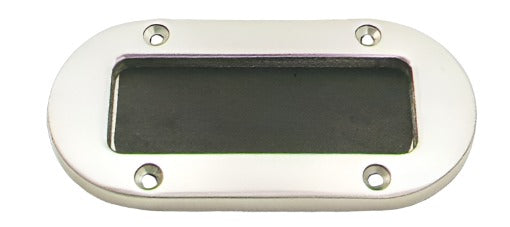 Flapper only for Rectangular Stainless scupper
MSC846
---
In stock, ready to ship

Inventory on the way
This is the rubber boat scupper flapper only for the polished 316 cast stainless steel rectangular boat scupper flange that has been used by many builders, mostly bigger sport fishing boats, as cockpit scuppers. The flange mounts on the outside of the transom and the stiff rubber flapper is sandwiched between the flange and the transom. It lets water out but keeps it from coming back in. Mounts with 2 of the 4 screws or bolts (not included) that hold the scupper flange.  

Measures 5-1/2" x 2-3/4".
Mounting holes are 4" apart.

If the stainless scupper flange is OK, why replace the whole thing?