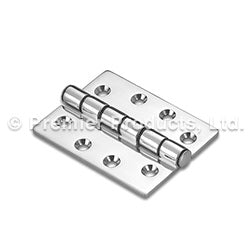 4" x 4" Square Stainless Steel Hinge
PRE56167
---
In stock, ready to ship

Inventory on the way
This square corner hinge is very thick, highly polished cast 316 stainless steel for extra beauty and durability.  It has a top pin and can be used for many applications (in addition to doors) where a strong hinge is needed.  It mounts with 8 - #12 fasteners (not included).  Used by many boat builders, this is a great hinge whether you are adding a new one or replacing a cheaper one that has broken!
Dimensions:
A = Overall length - 4"
B = Overall width - 4"
C = Each side length from hinge center - 2"
D = Hinge leaf thickness - 1/8"
E = Overall height at knuckle - 9/16"