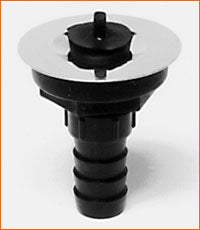 3-4" HB straight chrome drain w- stopper
ME4009
---
In stock, ready to ship

Inventory on the way
If the drain in your sink is leaking or just really cruddy, replacing it with a new one will make your whole sink seem new!
The straight fitting on this drain is molded of high impact nylon and the flange is chromed for a shiny, clean look. The stopper (included) allows the sink to be filled and drains quickly when removed. The very flush flange is 2.15" in diameter and fits in a 1.5" hole, which leaves plenty of room for sealant. The fitting extends about 2.5" below the underside of the flange and has over 1" of thread to allow the nut to tighten even on thicker fiberglass sinks. Hose Barb fits 3/4" ID marine hose.
Need a different drain? We have many here and can get just about anything!