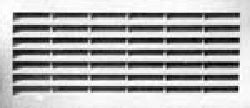 Rectangular White Plastic Vent Grill
HAF571-64
---
In stock, ready to ship

Inventory on the way
This rectangular white plastic vent grill was frequently used to ventilate ice makers and refrigerators, usually in the cockpit. Seven (horizontal) vent openings are protected by louvers that help keep out water. Can be glued or screwed in place. The front of the flange is smooth, with no holes. The backside of flange has 6 recesses to allow you to drill out mounting holes.
It was custom-molded for some builders (Sea Ray, etc.) and may have different names on the flange. If yours fits these dimensions it's the right grill!
Dimensions:
Overall flange length - 9-7/8"
Overall flange height - 4-1/4"
Tailpiece overall length - 9"
Tailpiece overall height - 3-5/16"
Tailpiece depth - 1/2"