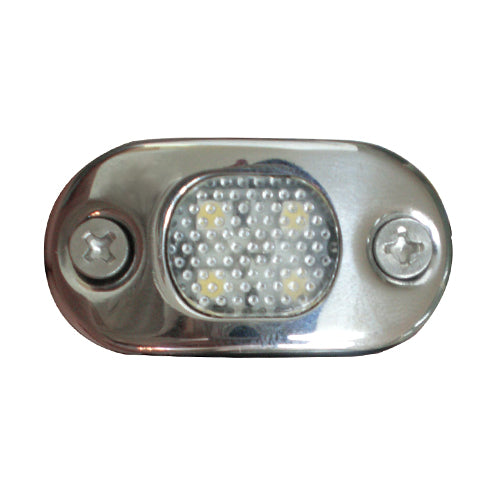 Stainless steel oblong surface mount LED courtesy light
ITC69365-SS
---
In stock, ready to ship

Inventory on the way
Great for adding a little light right where you need it!

This tiny LED courtesy light features a 304 stainless steel bezel so it looks great!  Bees eye acrylic lens provides maximum light output from the 4 warm white LEDs.  Thermal management results in extra long life.  True surface mount means no big hole to recess the light into and you can even run the wire out of the side through a channel!  Mounts with 2 screws (provided).

3.5 lumens for soft low-light applications like cabinets, compartments, switch panels, etc.
Only draws .35 amps at 12V.

1-1/2" long x 3/4" tall and only about 1/2" deep, this light will fit almost anywhere.

Don't care what it looks like?  Skip the stainless steel bezel and save $$ on this light, Click Here!