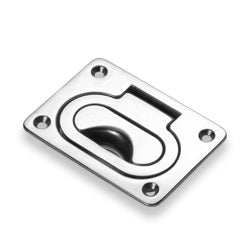 Stainless steel lift ring
PRE56228
---
In stock, ready to ship

Inventory on the way
This flush mount lift ring is brightly polished cast 316 stainless steel for good looks and great salt water durability!  The spring loaded handle automatically pops back into the recess, so no more stubbed toes.  Handle is big enough to get 2 fingers in, makes it easy to lift heavy hatches, etc.  Mounts with 4 ea. #8 fasteners (not included because we don't klnow how thick your hatch is!).



A - Overall width = 3"

B - Overall height = 2-1/4"
C - overall depth = 1/2"
Flange is 1/16" thick
Mounting holes are 2-1/2" centers side to side and 1-3/4" centers top to bottom