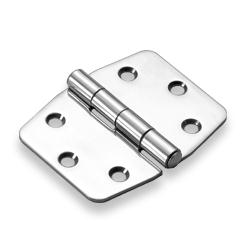 Stainless Steel Large Door Hinge
PRE57009
---
In stock, ready to ship

Inventory on the way
This door hinge is made of highly polished stamped 304 stainless steel for extra beauty and durability.  It has symetrical angled sides for a classic, strong, clean look.  It mounts with 6 - #10 countersunk fasteners (not included).  Used by many boat builders where a strong hinge is needed for doors or hatches.  This is a great hinge whether you are adding a new one or replacing a cheaper one that has broken!



Need a different hinge?  Send the dimensions and a picture and I'll find it for you!
Dimensions:
A = Overall length - 3"
B = Overall width - 3"
C = Each side length from hinge pin center - 1-1/2"
D = Hinge leaf thickness - 5/64"
E = Overall height (depth) at knuckle - 3/8"