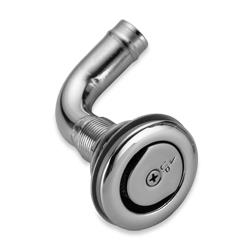 Stainless steel flush mount elbow tank vent
PRE56732
---
In stock, ready to ship

Inventory on the way
This 90 degree tank vent fits flush against the hull... no more vent caps knocked off!  Beautifully cast 316 stainless outside with 304 stainless elbow that fits 5/8" vent hose.  In addition to being beautiful, it offers the additional benefit of being cleanable!  Just remove the screw on the front to clean the stainless screen that keeps bugs, etc. out of your fuel tank.

Easy to install.  Drill a 1-3/8" hole, insert vent from the outside, slip on retaining collar and lock nut and thread on back nut (included).  Two silicone gaskets are provided to insure a good seal from both sides.  Then connect vent hose and you're done!

Need help making the exisitng hole larger?  Ask us how!


A - 1-3/8"
B - 1-7/8"
C - 5/8"
D - Maximum hull thickness - 5/8" 
E - 2-3/8"
F - Mounts in 1-3/8" hole